Archive News
Posted Jan 2018
We are pleased to announce that Saloni Negandhi has joined the team at H.P. Gower Solicitors.
Saloni is an accredited Duty Solicitor with extensive experience as a Criminal Defence Law Solicitor. Saloni manages her own busy caseload, involving work at Police stations, Magistrates' Court and Crown Court. She has dealt with a wide range of cases, from minor road traffic offences through to rape and murder and is in control of each phase of a case.
Saloni considers client care to be imperative and has a strong work ethic. She has developed a reputation as a professional with drive and determination to succeed and can present a point of view convincingly in order to secure the most favourable outcome for a client.
Posted August 2017
We are pleased to announce that Anita Reece has joined the team at H.P. Gower Solicitors.
Anita Reece is a very experience criminal defence lawyer of very many years standing. She is a court and police station duty solicitor with Higher Rights, having represented clients on a whole range of criminal offences from the less serious such as theft and excess alcohol matters to the most serious such as rape, murder and terrorism offences. Some of these cases have attracted a significant media interest both in the Magistrates and Crown Court. She is experienced, sympathetic and tirelessly enthusiastic in her defence of clients.
Posted November 2016
We are pleased to announce that Sultan Walpole has joined the team at H.P. Gower Solicitors.
Sultan qualified as a solicitor in 1997, and has specialised in criminal defence work since then.
Her work as a Court and Police station Duty Solicitor is varied, and ranges from 'simple' shop thefts, through to large scale money laundering, supply of drugs, serious assaults and sexual offences, including rape. Her attitude to her clients is the same, regardless of the allegation and Sultan is a fearless defender of the rights of her clients, and works closely with them to ensure the best possible outcome. She is knowledgeable, approachable and professional.
Since 2013, Sultan has lectured on crime and criminal justice issues, and law and ethics on various Higher Education Courses, including on the Law Course at the University of East Anglia.
Posted April 2016
As of 16 April 2015 H.P. Gower Solicitors secured the national Law Society's law management quality mark, Lexcel.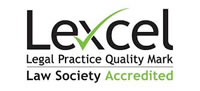 Lexcel is developed specifically for the legal profession. It is an optional, recognised accreditation scheme for law firms which gives assurance that a practice meets high client care and business management standards. To gain and retain Lexcel accreditation practices must undergo a rigorous initial then annual application and assessment processes. This includes conducting background checks and an on-site visit from an experienced, trained Lexcel assessor.
Posted January 2015
We are pleased to announce that Diana Cogoni has joined the team at H.P. Gower Solicitors.
Diana studied international relations at the London School of Economics before training as a solicitor at Moss & Co in Hackney, London. She qualified in 1999
Diana undertakes work covering all aspects of criminal litigation from minor magistrates' court matters to the most serious Crown Court work. She represents those facing the most serious of allegations, including murder, rape and money-laundering. She also has considerable experience in representing clients involved in public demonstrations, such as the May Day protests.
Diana is extremely popular with clients who find her both approachable and kind; she is highly regarded by her peers; and she has the reputation of being a fearless champion of individuals' rights.
Since 2007, Diana has also worked as a lecturer at BPP Law School in Holborn, teaching Criminal Litigation on the Legal Practice Course (LPC).
We are pleased to announce that Maggie Pedersen has joined the team at H.P. Gower Solicitors.
Maggie is a criminal defence solicitor, has been qualified for 14 years and is a Duty Solicitor. During this time Maggie has represented Greenpeace and other protest groups as well as clients arrested on terrorism allegations. She has also represented many clients accused of murder, rape and kidnapping as well as dealing with fraud allegations. She is totally committed to her clients and is willing to do more than usual to give them total support both at police stations and in court. She is a very confident advocate and is happy to stand up to any Judge in court and to senior officers in the police station whenever it is necessary.
Maggie has enormous experience of dealing with vulnerable clients and young people. Before Maggie became a solicitor she was a successful teacher in secondary schools where she taught English up to A level. She also taught evening classes to adults at the University of Bristol. At that time whilst teaching and bringing up children, Maggie studied for a Masters degree in education management. Maggie has always been interested in law and decided to qualify in law as a mature student and as a second career – a decision she has never regretted.
We are pleased to announce that Junior Stewart has joined the team at H.P. Gower Solicitors.
Junior has been a Duty Solicitor since 2000. Since 2007 Junior took up a full time post at BPP law school teaching the Legal Practice Course. Junior is a vastly experienced lawyer with a keen eye for detail and ability to tackle the most complex and demanding case.
Posted January 2014
We are pleased to announce that Rashmi Hirani has joined the team at H.P. Gower Solicitors.
Rashmi qualified as a Solicitor in 1996 and is a Duty Solicitor. She has experience in a wide diversity of cases ranging from murder and drug importation to general crime and motoring cases. Rashmi takes on board client's needs in a sensitive manner, whilst ensuring that their cases are dealt with in a professional way so as to ensure that the best possible outcome is achieved.
We are pleased to confirm that Anthony Heaton-Armstrong joined the team at H.P. Gower Solicitors.
Anthony has been a practising barrister since 1973. His work has centred on representing defendants in criminal cases, with a recent focus on those involving allegations of sexual assault. He is joint author, with David Wolchover, of numerous published articles concerning the PACE Codes of Practice and other issues relating to police procedure and 'Confession Evidence', Sweet and Maxwell, 1996. He has served on several Government and other committees tasked to consider the treatment of suspects held in police custody. He has been an accredited police station advisor since January 2013.
We are pleased to confirm that Revantha Amarasinha has joined the team at H.P. Gower Solicitors.
Revantha has been a practising barrister since 1996 and has an exclusively defence practice. Revantha is an experienced trial advocate with a busy Crown Court practice and has also appeared regularly in the Court of Appeal. He has defended, both as led counsel and junior counsel alone ,covering the broad spectrum of criminal cases from murder, attempted murder, serious violence and drugs offences to sexual offences and fraud. He has been in dual practice since January 2013 having qualified as a Duty Solicitor. He has a wealth of experience from which to draw on to advise effectively at police stations.
We are pleased to confirm that Morag Russell has joined the team at H.P. Gower Solicitors.
Morag is an experienced criminal defence lawyer with higher rights who has a wide ranging practice. She represents defendants as an advocate at Court and attends police stations frequently. She adopts a robust approach and prepares cases efficiently to achieve successful outcomes. She has a client list ranging from young defendants and adults, at the police station or in court for the first time to those facing proceedings regularly.
She is a good listener and advises her clients to ensure that proceedings and legal guidance are understood and meet expectations. Morag has considerable experience in dealing with matters including, violence cases, drugs and firearms, sexual offences, financial and dishonesty crimes and public order matters. In addition, she represents those subject to extradition proceedings. She has regularly represented defendants successfully challenging post-conviction orders including Restraining Orders, Anti-Social Behaviour Orders and Sexual Offences Prevention Orders.
Posted July 2013
We are pleased to announce that Emma Hobbs has joined the team at H.P. Gower Solicitors.
Emma Hobbs specialises exclusively in criminal defence work.
Having experience of dealing with cases in the Youth, Magistrates' and Crown Court. Emma has dealt with a broad spectrum of offences ranging from motoring offences to murder.
Whilst Emma's straight talking and down to earth approach means that clients are put at ease, she is sensitive to their individual needs and always deals with cases in a professional manner.
Posted July 2013
We are pleased to announce that Andre Billington has joined the team at H.P. Gower Solicitors.
Andre graduated in law from university in Liverpool in 1993. He enrolled to take the Bar exams at Manchester Metropolitan University in 1998, qualifying as a Barrister in 1999 and being called to the Bar by Lincolns Inn the same year.
He spent the majority of the last ten years with Tuckers Solicitors at their London office and was admitted to the solicitors' roll in 2007 subsequently qualifying as a Duty Solicitor.
Andre is an experienced solicitor and trial advocate dealing with matters as varied as simple Magistrates' Court matters to preparation of complex Crown Court cases.
Posted July 2013
We are pleased to announce that Chamila Wells-Thorpe has joined the team at H.P. Gower Solicitors.
Chamila was called to the Bar by Lincoln's Inn in July 2000 and later qualified as a solicitor.
Chamila is a Duty Solicitor and has experience in a broad range of criminal cases. She has represented many clients charged with serious offences including rape, fraud, large scale drug importation cases as well as general crime and motoring offences.
Chamila adopts a friendly, personal, sensitive approach with clients yet takes a robust and professional approach to the criminal defence work she undertakes.
Posted July 2012
H.P. Gower Solicitors are pleased to confirm that from 14 July 2012 Tim Bittlestone has joined the firm as a Consultant Solicitor.
Tim qualified as a solicitor at a firm in the North-East of England in 2002. Tim moved to London in 2006 and since doing so has acted in many high profile cases including the terrorist attack on Glasgow Airport and the notorious "Baby P" case. He is regularly instructed by high profile figures from the music and entertainment world who particularly respect his knowledge of the music industry and his discrete but thorough approach to their cases. Tim has a keen interest in the law relating to technology and in his spare time is undertaking a Masters degree in Internet Law.
Posted July 2012
H.P. Gower Solicitors are pleased to confirm that from 14 July 2012 John Kaye has joined the firm as a Consultant Solicitor.
John is an ambitious and innovative Solicitor. He has experience of working in a national firm and most recently a city firm. He has extensive experience as a police station and Magistrates' Court advocate. He thrives in preparing complex Crown court cases and offers a boutique service to his clients and always ensures that they are kept informed, updated and feel part of their legal team. By working with leading London Barristers chambers John is able to offer an excellent service.
Posted July 2012
H.P. Gower Solicitors are pleased to confirm that from 14 July 2012 Ian Boyes has joined the firm as a Consultant Solicitor.
Ian Boyes is a specialist Criminal law practitioner. He has been a Barrister for nearly ten years and has represented clients across the whole spectrum of offences. Ian also represents clients in Prison law matters, Judicial Review cases and appeals against both conviction and sentence.